Modern Toilets
Aqua Bath's Modern Toilets
Modern toilets have several advantages. Not only are they more elegant than their predecessors but also use considerably less water. They are also energy-efficient and more environmentally-friendly than the older models, using less water for flushing yet as effective or more.
At Aqua Bath & Lighting, our collection of modern toilets come in several styles for bathrooms of various sizes, styles and spaces. They are more aesthetic, are ergonomically designed, yet cost-efficient. Each model is built to meet exacting standards of performance and designed to maximize comfort.
Despite the enhanced functionality and added features, they are not bulky or heavy. Some commodes can be mounted on the wall while others come with small tanks. No matter what colour your bathroom is, we have a colour and style to complement the space and match the accessories. If you are looking to upgrade, our professionals can help you select models that blend with your older fixtures but offer all the advantages of modern styles.
Dual flush toilets help you bring down your water usage. Low flush water saver options are more affordable during purchase and keep water bills low in the long run too. If you prefer high-tech trends, check out our electronic flush commodes, jet flush systems, silent fill and flush systems, slow self-closing seats and easy-to-install toilets, in attractive round and elongated shapes. Browse through our collection toilet designs and styles at our showroom in Edmonton and Calgary.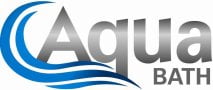 OUR VALUES
Competitive pricing
Brand new showroom
All the major brands
Able to serve both the public and contractors
Contact Aqua Bath
Toll Free: 1-833-287-3315
EDMONTON LOCATION
(587) 410-3483
5721 99 St. NW
Edmonton, AB T6E 3N8
CALGARY LOCATION
(587) 325-5739
Unit 30, 2151 32St. NE
Calgary, AB, T1Y 7G3
HOURS
Monday to Friday - 9:00AM - 5:30 PM
Saturday - 9:00 AM - 4:00 PM
Sunday - Closed