Aqua Bath - Faucets
Aqua Bath's Faucet Collection
There are some things you can't choose on the basis of looks alone. A faucet is one of them. In all probability, your faucets will outlast most of your home fixtures and furniture. It is extremely important to make sure that you spend on the right models that will last you in the best condition for many years for your bathroom décor. 
At Aqua Bath & Lighting, our faucets combine functionality with looks and style to give your kitchen and bathrooms the best finishes and maximize convenience. For a svelte modern look, you can choose streamlined designs with chrome finish. Brushed nickel or bronzed styles are more traditional options.
Whatever the design, your faucet must match your sink and the rest of your bathroom design. For instance, if you have a spa-like tub, choose a spa-like faucet with a rain shower head and a faucet that balances pressure. Faucets with temperature selection let you manage hot and cold water on your sink installations. 
Looking for an upgrade for your laundry room? We have the perfect faucets that add style and functionality. For your kitchen, pull down faucets let you reach better angles for easier cleaning. If you have a large, stylish sink, add a touch of sophistication with a faucet that compliments it. We have touch faucets with motion sensors as well as spray nozzles. Whatever your preference and budget, you will find a long-lasting faucet for you. Visit our showroom in Calgary and Edmonton and browse through our variety of faucets.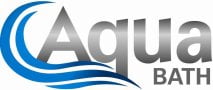 OUR VALUES
Competitive pricing
Brand new showroom
All the major brands
Able to serve both the public and contractors
Contact Aqua Bath
Toll Free: 1-833-287-3315
EDMONTON LOCATION
(587) 410-3483
5721 99 St. NW
Edmonton, AB T6E 3N8
CALGARY LOCATION
(587) 325-5739
Unit 30, 2151 32St. NE
Calgary, AB, T1Y 7G3
HOURS
Monday to Friday - 9:00AM - 5:30 PM
Saturday - 9:00 AM - 4:00 PM
Sunday - Closed